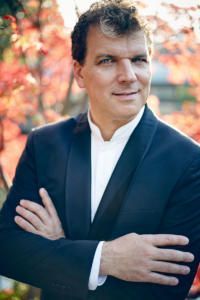 Matthias Fletzberger is regarded as an "artist in the front row" and a specialist in German repertory. His profound knowledge of the works of Mozart, Beethoven, Wagner, Strauss and Korngold is particularly valued.
in summer 2021 he conducted the newly founded festival "Klassik am Platz "including" Ariadne auf Naxos (with Camilla Nylund) and "Das Lied von der Erde" (with Nadine Weissmann and Benjamin Bruns). in the August 2020 was he more musical Head of Weinviertel Festival with Wagner's "Tristan und Isolde" (with Martina Serafin, Hermine May Günther Groissböck / René Pape, Thomas Johannes Mayer) and the "Flying Dutchman" (with Tomasz Konieczny). D.Before that he worked at the Sofia National Opera in preparation for a new Richard Strauss production "Elektra".
In recent years he has enjoyed great success as a conductor in America (New York / Lincoln Center, Los Angeles / Walt-Disney Hall, Montreal, Toronto, Vancouver, etc.), Far East (Bunka Kaikan Tokyo, Seoul Arts Center, NCPA Beijing, Oriental Art Center Shanghai), but also in Europe (Prague State Opera, Sofia Philharmonic, Vienna Musikverein). In Seoul he was also the artistic and administrative director and conductor of the first "Ring des Nibelungen" in Korea (director: Achim Freyer).
His musical talent attracted attention early on, at the age of 5 he was one of the youngest students of all time at the Vienna University of Music. As a winner of important competition prizes (including Busoni / Bozen 1984, Rubinstein / Tel Aviv 1986, Maria Callas / Athens 1988, Bösendorfer / Vienna 1989), he performed intensively as a pianist with around 1,000 performances in just 5 years around the world on all continents.
Motivated by Rolf Liebermann and Elisabeth Schwarzkopf and trained by Ferdinand Leitner and Carl Melles, he turned to conducting. The first successes as a conductor at the Wiener Festwochen followed quickly. Further engagements followed at the Prague State Opera and at the St. Gallen Theater (Switzerland).
After a 10-year hiatus, Matthias Fletzberger returned to operas and concert stages around the world in 2010, initially as a pianist and soon again as a conductor.
In 2011 the CD / DVD album "Violin in Motion" was released by "Deutsche Grammophon" and two more albums in a row by "Preiser Records", including the first recording of Joseph Marx's 2nd violin sonata. His work in concerts and operas with directors such as Peter Ustinov, Beni Montresor, Adrian Marthaler, Olivier Tambosi and Achim Freyer as well as singers such as Anette Dasch, Daniela Fally, Elina Garanca, Camilla Nylund, Martina Serafin and singers such as Benjamin Bruns, Günther is also highly valued Groissböck, Thomas Hampson, Renè Pape, Andreas Schager, Daniel Schmutzhardt or Ramon Vargas, as well as his appearances as a pianist and chamber musician.
Orchestras, audiences and critics particularly emphasize his ability to work out the works of German Romanticism in an authentic and multicolored manner and to lead orchestras to amazing performances in the shortest possible time.