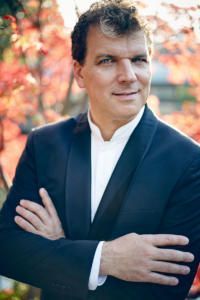 Matthias Fletzberger is regarded as an "artist in the front row" and a specialist in German repertory. His profound knowledge of the works of Mozart, Beethoven, Wagner, Strauss and Korngold is particularly valued.
Zuletzt dirigierte er bei den Weinviertler Festspielen im August 2020 Wagners "Tristan und Isolde" (u.a. mit Martina Serafin, Hermine May Günther Groissböck/René Pape, Thomas Johannes Mayer), davor war er an der Nationaloper Sofia zur Vorbereitung einer neue Produktion von Richard Strauss "Elektra".
Als Dirigent feierte er in den letzten Jahren große Erfolge in Amerika (New York / Lincoln Center, Los Angeles /Walt-Disney Hall, Montreal, Toronto, Vancouver, etc.) Fernost (Bunka Kaikan Tokyo, Seoul Arts Center, NCPA Peking, Oriental Art Center Shanghai), aber auch in Europa (Staatsoper Prag, Philharmonie Sofia, Wiener Musikverein). In Seoul war er 2018-19 künstlerisch-administrativer Leiter und Dirigent des ersten "Ring des Nibelungen" in Korea (Regie: Achim Freyer).
His musical talent attracted attention early on, at the age of 5 he was one of the youngest students of all time at the Vienna University of Music. As a winner of important competition prizes (including Busoni / Bozen 1984, Rubinstein / Tel Aviv 1986, Maria Callas / Athens 1988, Bösendorfer / Vienna 1989), he performed intensively as a pianist with around 1,000 performances in just 5 years around the world on all continents.
Motivated by Rolf Liebermann and Elisabeth Schwarzkopf and trained by Ferdinand Leitner and Carl Melles, he turned to conducting. The first successes as a conductor at the Wiener Festwochen followed quickly ("Die Zauberflöte" 1991 and "Die Schöne Helena" 1993 were broadcast throughout Europe via Eurovision). Further engagements followed at the Prague State Opera and at the Theater St. Gallen (Switzerland).
After a 10-year hiatus, Matthias Fletzberger returned to the world's operas and concert stages as a pianist and soon again as a conductor.
In 2011 the CD / DVD album "Violin in Motion" was released by "Deutsche Grammophon" and two further albums by Preiser Records, including the first recording of Joseph Marx's 2nd violin sonata. His work with singers such as Daniela Fally, Elina Garanca, Ramon Vargas, Andreas Schager, Benjamin Bruns, Thomas Hampson or Daniel Schmutzhardt as well as his appearances as a pianist and chamber musician are also highly valued.
Critics, audiences, and orchestras particularly emphasize his ability present the masterpieces of German Romanticism authentically, transparent and in a variety of colors, thus leading the orchestra to astonishing achievements in the short time.